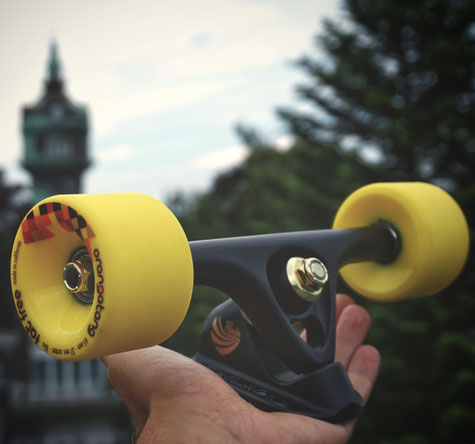 Philipp is a twenty something year old, passionate and everlasting part of the longboard dance and freestyle community. For a year now he is part of the Simple Squad and feeds the world with his smooth, creative and timeless flow.

Philipp found Paris Trucks V3 and Orangatang Fatfrees to be his setup of choice. He tried all different kinds of trucks and wheels out on the market, but his path always took him back to the very classic setup, he once started longboarding with.

Paris Trucks V3 180mm with Fatfrees in either 80a (orange) or 86a(yellow) work just great in terms of comfort on the board and they look damn sexy.
The simple, yet beautiful design and the durability of the trucks and wheels are a huge impact for his choice.
Stock Bushings work fine, although Philipp recommends soft Orang'a'Tang bushings to optimize the ride.